Statement on the emergency authorisation for limited use of a neonicotinoid seed treatment for the 2021 sugar beet crop
11 January 2021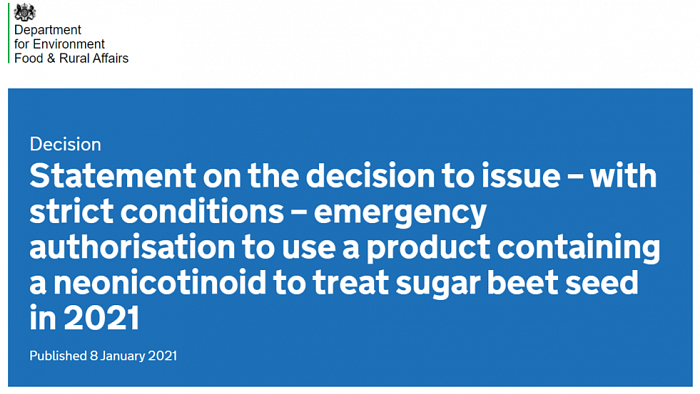 "The British beet sugar industry applied for emergency authorisation to use a targeted neonicotinoid seed treatment for the 2021 sugar beet crop as a last resort, after the extreme and unprecedented impact of Virus Yellows disease, which is spread by aphids, on the 2020 crop. Some growers have sadly seen their yields destroyed by as much as 80% as a result of Virus Yellows this season.
"Supporting bee populations is extremely important to us and our growers and having the right controls to ensure this was key to the application. The treatment is applied to the seed before it is sown – it is not a spray. It will be used in an extremely limited and controlled way on the 2021 sugar beet crop, which is non-flowering, and only if a pre-determined, independent aphid forecast threshold is met in February.
"The emergency authorisation brings the UK into line with 13 EU countries which have already granted similar derogations for neonicotinoid seed treatments to be used for this year's sugar beet crop.
"Across the homegrown beet sugar industry, we are progressing clear plans to tackle Virus Yellows without neonicotinoids, including through research and development to improve natural resistance in the crop."
---
Notes to editors:
More information about the British Beet Research Organisation programmes of activity to tackle Virus Yellows can be found here.