High hopes for three peregrine chicks at British Sugar Cantley
6 June 2023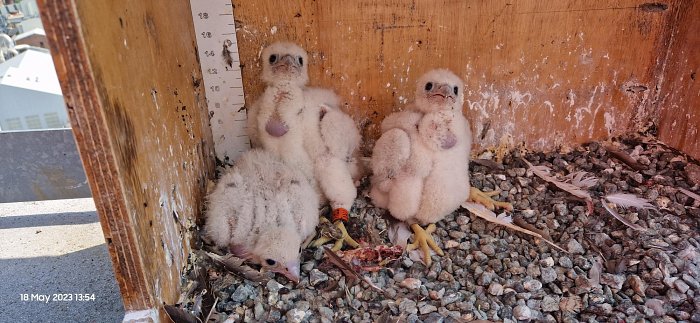 British Sugar's team at Cantley have seen success with a new nesting site for the factory's resident peregrine falcons and upgraded video cameras, allowing followers of the birds to watch three chicks hatch and grow this spring.
Ahead of this year's breeding season, a new nest box was built for the birds on the roof of the factory's sugar silo, replacing a stainless steel ledge on the side of the silo - which had proved a precarious location for peregrine chicks of previous years.
The nest box was equipped with three new video cameras to give viewers a close-up perspective of the peregrines, and further enhancements have even been made remotely to the quality of the video image, which has 2K resolution capability.
In mid-March the peregrine pair were first observed at the new box, sparking hopes that it may be chosen as their nest location. Later in the month, the team were delighted to see on the live feed that the visits to the nest had resulted in the arrival of three eggs, which all hatched in early May to complete the peregrine family for 2023.
Kevin Shales, IT Coordinator at Cantley factory who facilitated the new equipment, said, "We have been exceptionally lucky that the enhancements that have been made for the Peregrine breeding season have paid off. With the new roof-top site, not only can we maintain the nest in between breeding seasons, but we have many more options for video cameras, with night vision, to get both close-up and wide-angle coverage."
Next year, Kevin hopes to upgrade the feed to provide sound on the live stream, as well as upgrading the footage to 4K resolution. He added, "Being able to share footage of the peregrines with as many people as possible is the objective. For me it is always about constant improvement, I want the coverage to be the best it can be."
You can watch the Cantley peregrines in real time on their YouTube channel, and follow updates on the Cantley Peregrines Facebook page.