#TimeToTalk Day 2021: A blog from our Head of Safety & Health
4 February 2021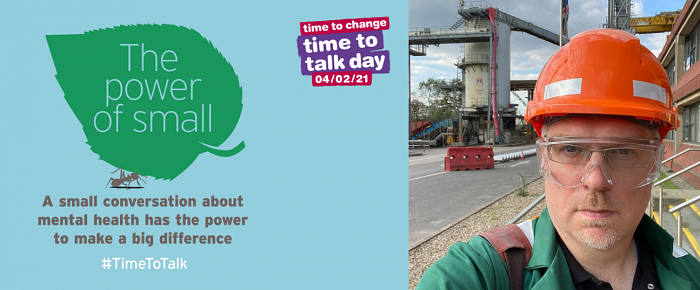 Today is #TimeToTalk Day, a day organised by Time to Change[1], dedicated to raising awareness of mental health and encouraging us to take small steps to look after each other. Time to Change is a social movement to change the way that people perceive and act about mental health problems. 1 in 4 of us will experience a mental health issue in any given year, and the present coronavirus pandemic is putting more and more pressure on people. Studies by UCL have shown that levels of anxiety, depression and thoughts of self-harm have increased during the pandemic; COVID-19 is the biggest stressor in most people's lives at the moment, driving health, financial and relationship challenges.
I'm proud that British Sugar has taken an active lead to positively support mental health even before the pandemic spread across the UK. We signed up to the Time-to-Change Employer pledge in 2020, demonstrating our commitment to our employees' mental health, and to creating an environment where can they be open about it. Our Mental Health & Wellbeing committee coordinates activity across the business. One of its members, Thomas Dunning based at our Newark factory, has won the SHP Trailblazer award for his passionate advocacy of this area.
We have trained mental health first aiders at all of our sites, backed up through our Employee Assistance Programme, which gives our colleagues access to nurse and counsellor support. We're currently also rescoping our occupational health provision to improve the support we can provide. We have also established an 'It's ok not to be ok' group on our internal network to give people a space to safely express how we're feeling, support each other and share useful links and advice. This has been especially important when many of our colleagues are working from home.
No matter what we've put in place as a company, we're often able to make the most impact as an individual. We know our colleagues, and if they don't seem their normal selves, we can ask them how they are, more than once if necessary, and listen to them, empathising and supporting, and perhaps pointing them to the support networks available to them.
Stay Safe.
Dominic Mooney
Head of Safety & Health