Our accreditations
27 November 2020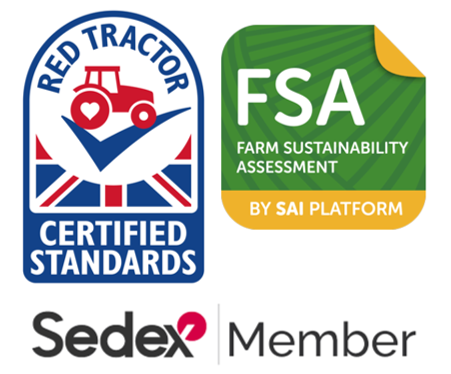 Sustainable agriculture is extremely important to us, our growers and our customers, and we are often asked about our accreditations and the standards to which we adhere.
Alongside our industry partners, we work hard across our supply chain to reduce our impact on the environment and sugar beet travels on average just 28 miles from the farm where it is grown to one of our factories. We are fully assured and achieve high standards on sustainability across our value chain with our growers.
All of our growers must ensure that their sugar beet crop is covered under the Red Tractor Farm Assurance (Combinable Crops and Sugar Beet Standard) Scheme Version 4.1 at all times. This is a condition of their contract with British Sugar, and we can only receive sugar beet at our factories from growers with valid Farm Assurance. Growers are audited yearly, and the audits are registered with Red Tractor as the standard holder, who in turn inform us of the grower's status.
Our sugar beet also has Sustainable Agriculture Initiative (SAI) Platform Farm Sustainability Assessment (FSA) 2.1 Silver Level Equivalence. You can read more about our work with SAI Platform here.
Additionally, as a Sedex member we are committed to sourcing responsibly and having an ethical and sustainable supply chain. Using Sedex tools and services helps us improve our responsible business practices.