International Women in Engineering Day 2020: An interview with engineering apprentice Amber Brouder
23 June 2020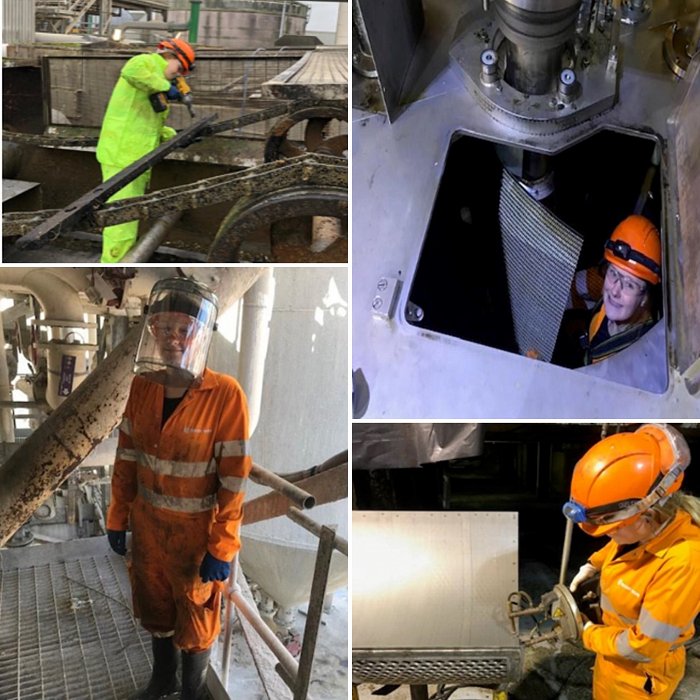 To mark this year's International Women in Engineering Day, we spoke to Amber Brouder, a fourth year Mechanical Apprentice at our Bury St Edmunds factory, about her experiences of being a woman in a male-dominated sector and reflections on her career so far. Here is what she had to tell us:
How did you come about your role?
I joined British Sugar almost four years ago after seeing an advert for their apprenticeship scheme in the local paper. When I left school, I wasn't sure what I wanted to do, so I applied to the scheme, but was advised to go to college to get my Level 3 Diploma in Electrical Engineering first to improve my chances. After studying for two years and gaining valuable knowledge, I applied to British Sugar again and gained a place on the mechanical scheme. Fast forward to 2020 and I've recently passed my third year of the apprenticeship, and looking forward to completing the scheme in the autumn.
Why did you choose to enter the field of engineering?
I always preferred science and maths at school, so when I looked towards a career I wanted to follow this path. The thought of sitting at a desk all day did not appeal to me at all – I much preferred to do something more hands on, which involved solving problems and finding innovative solutions, so I thought this apprenticeship would be the perfect starting point.
As one of the biggest employers in my area, British Sugar appealed to me specifically, because I knew that lots of people worked there for many years, if not their whole career, which must be a good sign for an employer!
What does a typical day in your job look like?
Every day is different! I could be stripping apart a broken pump to fix and rebuild it in the workshop one day, and then doing maintenance work on one of the screw conveyors which transports sugar beet pulp or the finished sugar product through the factory the next. It varies day by day, but it's all very hands on. I do whatever needs doing to ensure we can keep the factory up and running, so sometimes I'm working under time constraints.
I also spend around one day per week studying towards my Level 3 NVQ Diploma in Process Engineering Maintenance, which is great to balance practical skills and learning with theoretical knowledge.
What is the best aspect of your role?
Definitely that every day is different! I love that I'm never stuck to one location on site – I'd certainly get bored if I was doing that. I enjoy getting fully immersed in a task – whether its sugar beet pulp or grime, my gloves and hands are never destined to be clean for long!
It's also great to be able to work with a team and communicate together to get the job done. There is such a buzz and sense of achievement when we all work together to solve an issue or breakdown, especially as you know you've really helped to keep the factory running.
Our shift patterns mean that you're often working with different people from the department, so you can really learn from others' expertise, especially those who have worked for British Sugar for a very long time and have a wealth of knowledge and best practice to share.
What has been your proudest moment at work so far?
Externally, I was delighted to be a finalist for Apprentice of the Year in the 2019 Food and Drink Federation Awards. It was great to be recognised for my role and to know that I'm making a difference to the company. I was proud that my nomination for the award picked out not just my technical work in the factory, but also my involvement in representing British Sugar at various different levels – from taking part in the Three Peaks Challenge with my cohort to raise money for MIND, to assisting with educational visits showcasing apprenticeships and with the selection process for new apprentices, all of which helped me to develop my professional confidence and leadership skills.
Back at the factory, my proudest achievement so far has been to push for improvements to the women's changing facilities. Given there has historically been lower numbers of women working here, the women's changing rooms were much smaller than the men's and no longer had enough space for the increasing numbers of women working on site. I raised this with the (all male!) Factory Managers Board and put forward a suggestion to expand the changing rooms and was really pleased when they agreed. We've now got much better facilities which will serve us well for the future, and I'm proud to have played my part in securing these.
Who has been the biggest inspiration in your career to date?
When I was at school, I had a great science teacher who really got me interested in STEM subjects and it was because of him that I decided to follow a career path as an engineer. He really brought the subjects to life with real world, practical applications and experiments, which I enjoyed much more than the book-based work.
In my role now, I really look up to colleagues who have worked at the factory for a long time as they have a wealth of knowledge to share. Everyone is willing to provide guidance and support to those like me who are just starting out in their career, and it's inspiring to learn from them – we're just like one big family really!
Looking to the future, what are you hoping to achieve in your career?
Although I would like to stay in a similar role to the one I'm in now once I finish my apprenticeship, ultimately I would like to have a leadership role, such as a Shift Manager, so that I can be involved in helping to get more women into such roles. More women in leadership is definitely a positive way to ensure greater diversity in the factory.
Is there anything challenging about being a woman in a sector that is still very male-dominated?
Sometimes physical strength can be a challenge, as I'm not as strong as some of my male colleagues, but I think this just challenges me to think outside the box with tasks I might not do in quite the same way as them – this can end up with me actually finding a better or safer way to carry them out, to everyone's benefit. Being smaller can bring its advantages too – having nimble fingers comes in handy with the more delicate jobs!
What do you think can be done to inspire more girls to enter the engineering field from a young age?
There's a big role to play in schools to help showcase engineering as a career choice to girls from a young age. When I was at school, I didn't really come across any women who worked in engineering at careers fairs or events, so engineering and manufacturing companies should send women to the events when they have the opportunity, to help show girls and young women that they too can enter the field. It's about challenging stereotypes of engineering, especially that it's just for men, and there's no better way to do this and to inspire women engineers of the future than being able to speak to a woman doing a job in engineering that they can relate to.
What makes the perfect engineer?
Patience, perseverance and good communication skills. Patience because tasks can take longer than you think, and it's important to ensure it's carried out safely. Perseverance because there's usually no other option than to see a task through, to keep the factory running. Good communication because if you can talk to others about a task, or any problem you're having with it, you can share ideas to solve it together. Being a logical thinker helps to tackle problems too!
This year's theme for Women in Engineering Day is 'Shape the World' – what can women engineers do to help towards this goal?
I think this is important both within and outside of the workplace. We need to be out there being ambassadors for the sector to promote it to women of all ages and backgrounds. People are often surprised when I tell them I'm an engineer, so I always make sure I challenge the stereotypes that you will be treated differently for being a woman in engineering, and to share all the great aspects of my role. The more diversity we can get in the sector, the more we can shape the world.
If you would like to join us, keep an eye on our careers page for future apprenticeship and graduate scheme opening dates: https://www.britishsugar.co.uk/careers/