National Apprenticeship Week 2020: My British Sugar career, from Apprentice to Performance Manager
7 February 2020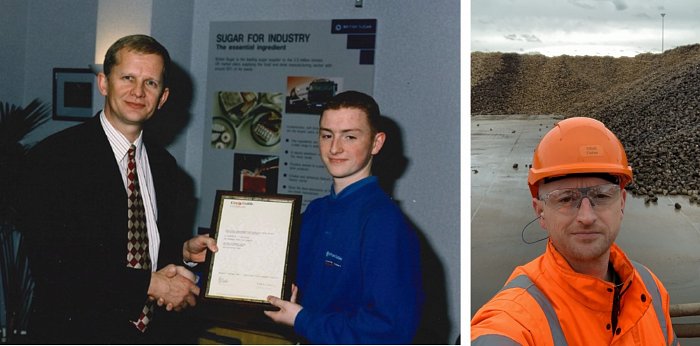 I joined British Sugar in 1994, as part of a multi-skilled apprenticeship scheme. After qualifying in 1998, I was appointed as a Mechanical Engineer. My apprenticeship laid the perfect foundation for me to build my future career, as I had gained an insight into both the process control and engineering sides of operations within British Sugar.
Through my apprenticeship and early career, I was privileged to be coached and trained by some highly skilled technicians, as well as managers who gave me guidance. I certainly learnt from the some of the best! Working alongside people of that calibre through my career has been educational, inspirational and helped me develop my own professional style, which I still use today.
I have been appointed in a variety of roles since 1998 - from Engineer to Process Technician of several operational areas within British Sugar's Wissington site. I developed to Shift Manager, which my multi-skilled apprenticeship - in particular the engineering and process operations aspects - prepared me for. This role allowed me to develop my people skills and work alongside some great teams. It was in this role that I found a passion for working with and developing teams, and I was pleased to be able to give back some of the support and coaching that I had received over the early years of my career.
I enjoyed this so much that I moved into a people development role, which included managing British Sugar's apprenticeship schemes for a two year period. This was one of my most rewarding opportunities yet, due to my passion for apprenticeships and the benefits they provide to kick-start careers.
Another fantastic opportunity I had was to join British Sugar's biofuel team in 2006, through which I was fortunate enough to visit our sister company Illovo in South Africa to gain experience from their biofuel plants and share best practice with their team. In more recent years, I have been able to progress in my career across various British Sugar sites, including as Development Manager at our Cantley factory.
British Sugar has supported me with many opportunities and experiences, helping me develop into the senior Performance Manager role which I now hold at Wissington factory. That all started with an apprenticeship 26 years ago, and since day one with British Sugar I have never stopped learning or enjoying my work. I would very much recommend considering an apprenticeship to anyone thinking about their future career or getting started in a profession.
Elliott Fisher
Performance Manager, Wissington Factory