My Yellow Wellies Charity Head Shave: Debbie Wilkinson, Grower Services
2 December 2019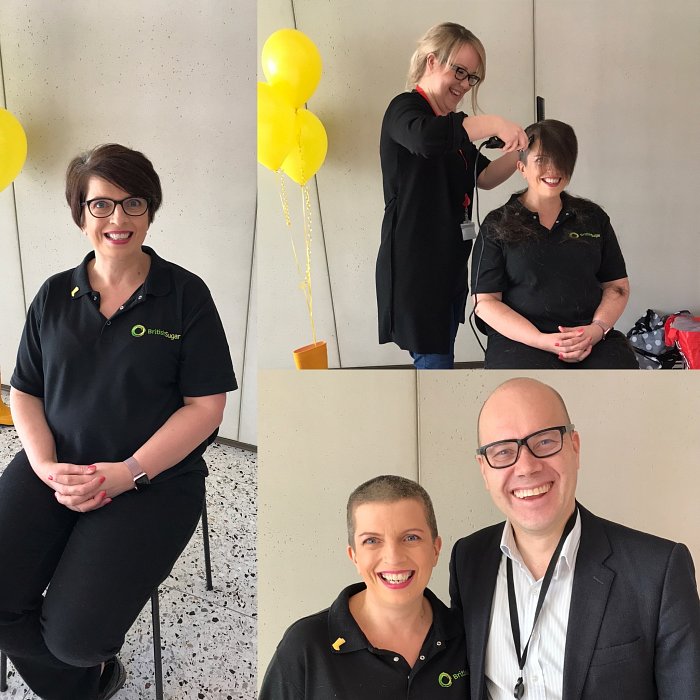 Having worked for British Sugar's Grower Services team for three and a half years, I have spoken to thousands of our sugar beet growers and hauliers when they've called our hotline. Speaking with them is my favourite part of the job, and it's very rewarding to help solve any problems or simply to answer their questions and make things easier, so when I read that on average one agricultural worker per week in the UK commits suicide I was shocked and wanted to do something to help.
Like many women, I have been dying my hair for years, but recently I have become increasing intolerant to hair dye and can no longer use it. Rather than spend months growing out the colour, I decided just to shave my head and start again. I thought this would be a great opportunity to help those in the agricultural sector who face issues a lot more serious that my own, and decided to use my head shave to fundraise for the Farm Safety Foundation.
The charity, also known as Yellow Wellies, supports the health and safety of agricultural workers, including raising awareness of mental health issues faced by farmers. Their research reveals that four in five young farmers believe mental health is the biggest hidden problem facing farmers today.
As the challenge approached I felt nervous, but Yellow Wellies told me that all the donations they receive help them to develop resources, training sessions and campaigns to increase awareness around mental health in farming, so I pressed on with raising money, including running a 'guess the number of sweets in the welly' competition in British Sugar's Peterborough office.
On the day, it was fantastic to have the support of so many colleagues who came to watch the big event, and I was delighted to raise £1,550, including £250 of match funding from British Sugar's 'Supporting You to Support Others' charity programme, which boosts employees' fundraising efforts. I have been overwhelmed by the support and donations from British Sugar and ABF colleagues, family and friends - even friends I haven't seen since my school days who saw the challenge on social media! Clearly it's a cause that touches many people's hearts.
With mental health problems being a serious and often hidden issue among farmers, who can find themselves isolated in their day-to-day work, I hope that my fundraising will help the Farm Safety Foundation to raise awareness and reach out to anyone in agriculture who needs their support. A huge thank you to everyone who donated to this worthy cause!
Debbie Wilkinson
Grower Services
---
Notes to editors:
Find out more about the Farm Safety Foundation on their website: https://www.yellowwellies.org/