ECONOMIC: BUILDING RURAL ECONOMIES
17 November 2020
British Sugar & Abbey Logistics – Embracing Innovation and Collaboration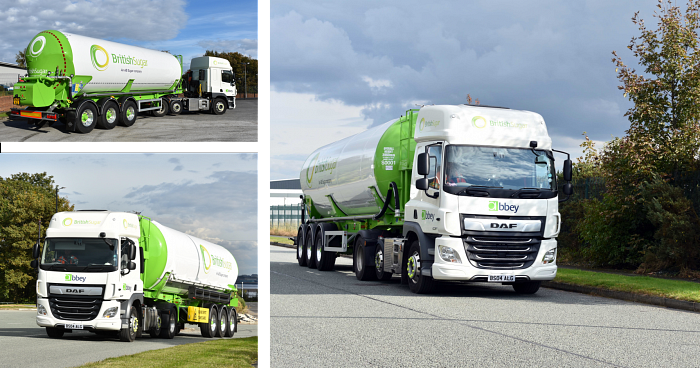 Abbey Logistics has been an important transport partner to British Sugar since 2016, providing us with over 350 bulk tanker deliveries per week from our factories to our industrial customers.
Our joint focus on sustainability and the responsible use of resources is key to our relationship, and in 2018/19 our partnership resulted in 99% on-time delivery and transport cost per tonne being reduced by 13%.
As part of our commitment to both transport road safety and improving our vehicle efficiencies, we continue to work closely together to explore new and exciting technologies.
Abbey Logistics' engineers and British Sugar's own sustainability experts recently worked together to upgrade our fleet, procuring the very best and most appropriate vehicles for our operation that will help achieve our sustainability goals, as well as supporting our customers and ensuring we are the supplier of choice for sugar across the country.
In September 2020, Abbey added 11 new latest generation trucks to their core British Sugar fleet. The new CF trucks from DAF feature latest generation aerodynamics, engines and gearboxes together with dynamic intelligent driving modes designed for maximum transport efficiency and minimum emissions.
The vehicles will produce up to 20% less nitrogen oxide and fewer particulates than previous generation vehicles being replaced in the fleet, as British Sugar maximises the environmental benefits of homegrown sugar.
As with previous models, the vehicles are equipped with the latest sat nav systems, meaning that drivers can avoid heavily congested areas and minimise time spent in slow traffic, helping to improve the reliability of timely deliveries to our customers.
Following the trucks, Abbey embarked on a substantial fleet upgrade programme that included replacing a large number of road tankers, as well as a tanker trailer refurbishment programme to completely overhaul and modernise older units on the fleet.
The new FORS Silver accredited road tankers added to the fleet feature improvements on their predecessors, including Feldbinder's roll stability protection technology that helps maintain stability of the tanker while on the road. The new tankers run on Goodyear fuel max 2 tyres which improve fuel efficiency through lower rolling resistance and provide enhanced mileage, traction and reduced noise emissions.
To help drivers, all the tankers are fitted with an improved product discharge valve and inbuilt onboard weighing, which enable more control over the flow of product, making deliveries safer by giving the driver greater control over the discharge process.
All vehicles across our Abbey fleet feature our distinctive livery, reminding road users of the homegrown sugar industry as they travel throughout the UK.
In October 2020, we were proud to win 'Team of the Year' at the Motor Transport Awards for our partnership with Abbey Logistics, with our seamless integration and collaboration across the joint team being praised by judges.
Stewart Dickson, British Sugar's Interim Head of Logistics, explains, "At the same time as ensuring we are supplier of choice, it is very important to us to reduce the impact on the environment across all our supply chains and transport our homegrown sugar as efficiently as possible. We are delighted that Abbey Logistics understands and shares our commitment to ensure our transport fleet continues to reduce emissions through intelligent management of deliveries, and having the latest generation of vehicles in operation."