SOCIAL: THRIVING AND HEALTHY COMMUNITIES
22 May 2019
British Sugar New Office Building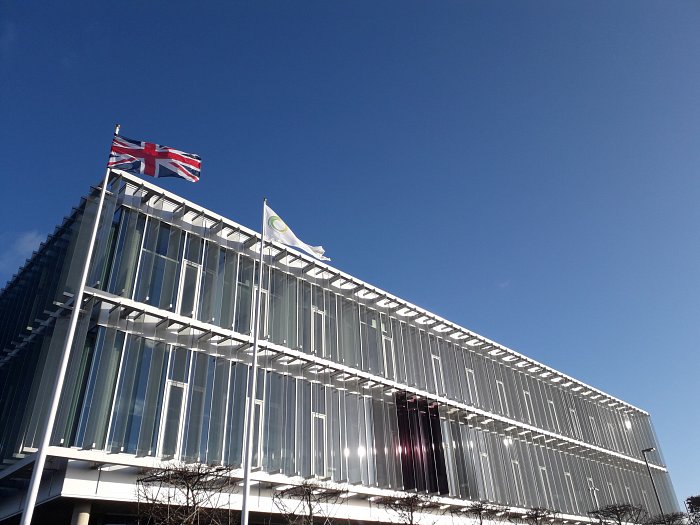 British Sugar new office building
In December 2018 British Sugar moved to its new home in Peterborough. There are around 320 people based in the Peterborough offices – not just from British Sugar but from across five different businesses that are part of the Associated British Foods group, supporting activities here in the UK and across the world.
We left an old space for a modern environment that we can all be proud to work in. The building has been designed to Passive Haus principles including the ability to heat or cool the building using fresh air. Other features include an EPC A rating, PV solar panels on the roof to generate energy, rainwater harvesting, low energy LED lighting and 'keep cups' provided for all to encourage a reduction in single use plastic cups.
Whether it's our colleagues who are based in Peterborough, colleagues visiting from our four factories or visitors, we're proud to have created a flexible and welcoming space.
Key facts and figures
An area of 56,000 sq. ft net internal usable area
Replaced a significantly larger office built in the 1970s
34.2KW of installed solar Photovoltaics generating and an estimated annual system output of 40,000 kWh, a significant proportion of the energy used in the building
Environmental improvements
The low energy principles we have adopted in the new building include:
Passive Haus design principals that means we can attain a quantifiable and rigorous level of energy efficiency.
Optimised control of solar energy for heating – this allows us to retain the right amount of heat for the people in the building and to shade the building from unwanted heat at other times. The building incorporates a glass envelope to capture the solar radiation and moveable louvres providing shading and minimising the glare during peak times.
High performance wall and ceiling insulation combined with high performance windows to minimise heat losses and maximise natural light for the comfort of everyone.
The combination of natural ventilation with heat recovery technology and efficient air conditioning units (HVAC) utilising energy recovery and underfloor distribution to optimise conditions.
Creation of a central atrium to provide a high degree of natural light, minimising the need for powered lighting. Where necessary LED lighting has been incorporated with motion sensors.
Rainwater harvesting to allow for use across the building – and an overall water saving.
An integrated building management system to optimise performance and minimise the environmental impact.
As well as creating an efficient and low impact building it was recognised that a number of other features would help reduce the environmental impact and improve the effectiveness of the workplace. These include:
Video conferencing: to enable the international businesses to improve communication whilst minimising expensive and environmentally costly flights.
Electric charging points: to encourage the adoption of electric vehicles.
Waste minimisation: including adoption of "follow me" printing, use of washable cups, and a new catering approach to help eliminate food waste.
Improved collaboration: incorporating specific design features to encourage and promote collaboration across the many shared businesses and wider ABF group.
Early results
Whilst still in in the early stages of occupancy the new building has already reduced gas and electricity by 51%, water usage by over 30% and has achieved a grade 'A' EPC environmental rating - making it one of the top 5% of buildings within England and Wales.