ENVIRONMENTAL: CONSUMING RESOURCES RESPONSIBLY
27 November 2017
Anaerobic Digestion at Bury St Edmunds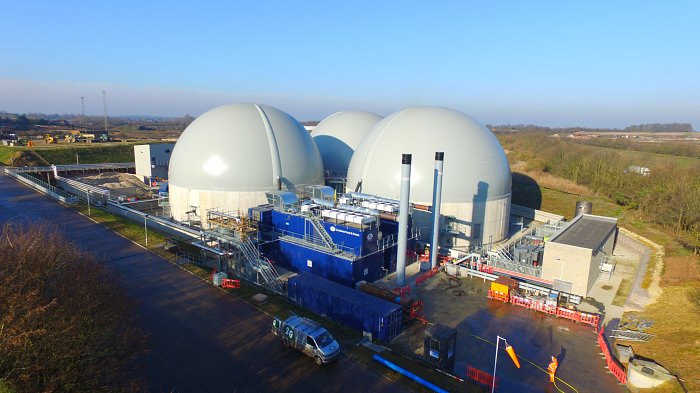 Objective
As a business we're proud to turn virtually all the outputs from the sugar making process into products in their own right. At our Bury St Edmunds factory we decided on a different approach to utilise the pulp which remains after sugars are extracted. Sugar beet pulp is currently sold as both animal feed and feed for external anaerobic digestion plants.
What we did
In 2014 British Sugar identified that land at their Bury factory, which was at the time an industrial brown field site, could potentially be the site for an Anaerobic Digester, enabling us to produce renewable energy from the remaining sugar beet pulp.
Anaerobic digestion is a process in which microorganisms break down organic matter in an oxygen free environment to produce two products: biogas – a source of renewable energy – which can be converted into electricity and heat in a CHP engine; and digestate used as an agricultural soil conditioner and fertiliser.
The whole project was managed by experts with a whole range of skills, from external environmental specialists to engineers and project managers. The team were also assisted by members of the wider ABF Sugar Group who were able to contribute additional skills and expertise.
The Bury plant, consisting of three digester tanks, two primary and one secondary, was designed to take approximately 97,500 tonnes of pressed sugar beet pulp per year, some fed directly during the beet harvesting campaign and some stored as bales for use during the rest of the year. This provides a sustainable feedstock not taking up food producing arable land.
Results
The biogas generated feeds a combined heat and power plant (CHP) generating up to 5MW of green electricity with additional heat recovery from the exhaust. Electrical generation via two gas engines is approximately 38,260 Mw per year exported to grid, enough to power approximately 8000 average homes for a year. In turn this contributes to meeting the UK's renewable energy targets under the Renewable Energy Directive.
The heat produced is used in the form of hot water to warm the digesters, drying some of the digestate. The drying process will supply approximately 5,000 tonnes of dried product per year.
This digestate is used as agricultural fertiliser returning nutrients back to the land and avoids the application of synthetic fertilisers.
Commenting on the Anaerobic Digestion plant Mike Blowers, Factory Manager at Bury said "We're really pleased to have achieved our aim of generating up to 5MW of renewable energy. This is an another great example of how determined we are to do more with less and be a leader in responsibly consuming, reusing and recycling natural resources."