Beet price of £40/t agreed for 2023/24 sugar beet contract
28 June 2022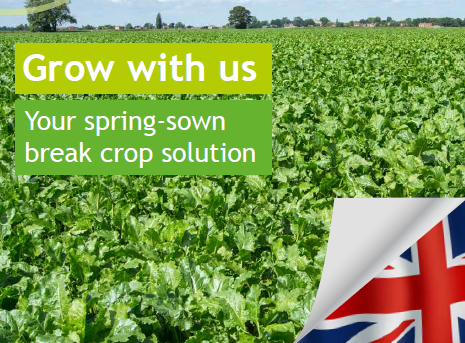 NFU Sugar and British Sugar have today announced a beet price of £40 per tonne for the 2023/24 sugar beet contract year, which represents a 48% price increase on last year.
The offer also includes a number of new options for growers to consider as part of the contract:
Growers have the choice to purchase a yield guarantee product that protects income against yield losses.
A 'futures-linked' variable price contract for the 2023/24 crop which enables growers to make more dynamic pricing decisions for up to 20% of their contracts.
A local premium¹, revised multi-year prices² and the option of a cash advance.
NFU Sugar board chair Michael Sly said: "I'm incredibly pleased that we are able to announce this contract offer to growers in a timely manner, which represents a significant price increase on the previous contract.
"With growers facing significant cost increases, and the prices of alternative crops having risen to unprecedented levels, I am glad we agreed on a contract offer that should keep sugar beet as a valued part of growers' rotations. I am hopeful this deal gives the opportunity for re-investment into the sugar beet sector and provides confidence for the future.
"NFU Sugar has invested considerable time working constructively with British Sugar to reach this deal and this has allowed us to develop innovative features that will add value to growers.
"After a couple of challenging seasons, which highlighted the increased risks growers are facing, I am pleased we have found a pioneering way of allowing growers to mitigate their yield risk.
"There is no doubt that we have been concerned about the decline in growing area over the past two years and the subsequent impact this had on the supplier base. It was important this deal addressed that and I hope now we will see that decline reverse and the industry rebound."
Paul Kenward, Managing Director, British Sugar, said: "We are delighted to announce our contract offer for the 2023/24 growing season today. £40/tonne offers growers a healthy margin even at today's high costs, compares very favourably with alternative crops, and offers yield guarantees for a small payment.
"We are confident that this straightforward, attractive offer provides choice, security and profitability during an extremely challenging time for all growers. On top of a compelling price, we have listened to calls for flexibility and growers now have an option to opt-in to the new risk mitigation option we are offering for yield protection, as well as a cash advance option for the 2023 crop.
"I am very positive about the future for everyone within this fantastic homegrown industry. With UK customers keen to buy from British Sugar, we are really well-placed to partner with growers for the long-term, and I am certain this contract will encourage further investment going forward. We have four well-invested factories, a great product and an exciting story to share. Our growers are a key part of our business and I hope that this offer provides an incentive for them to continue growing next season and beyond."
---
Notes to editors:
Growers within 20 miles of any British Sugar factory will receive a local premium of up to £2, based on distance to the factory.
All growers with an existing 2023 commitment will automatically receive an upgrade to £32/t, from £25/t. Growers can upgrade this further to £40/t if they commit to grow sugar beet in 2024.
To contact the British Sugar press office:
press@britishsugar.com
+44 (0)1733 422945 +44 (0)7525 615277
British Sugar is the sole processor of the UK's sugar beet crop, working in partnership with around 3,000 growers and our customers to deliver a world-class product. We process around eight million tonnes of sugar beet and produce up to 1.2 million tonnes of sugar annually. Further information on British Sugar can be found at www.britishsugar.com.
NFU press office
Contact: Media Manager – Sam Ette
Telephone: 024 7685 8686 Out of Hours: 07814 667 603 HQ ISDN: 02476 416289