British Sugar's Newark factory celebrates 100th year
9 November 2021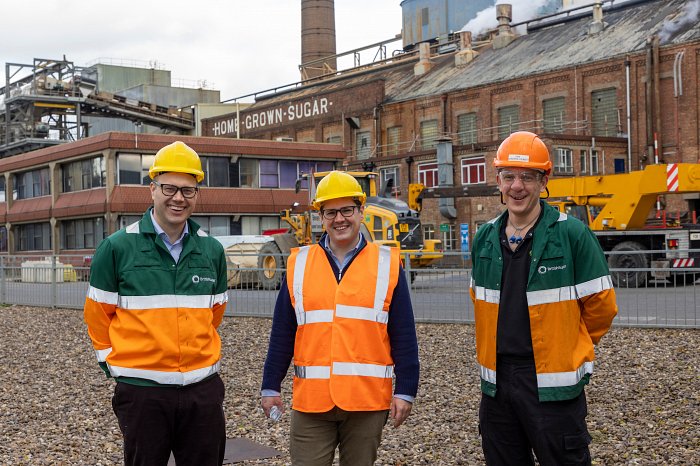 Paul Kenward (British Sugar Managing Director), The Rt Hon Robert Jenrick MP, Sam Sanders-Hewett (Site General Manager, British Sugar Newark)
British Sugar's factory in Newark is this year marking its centenary. After opening for its first sugar beet campaign in 1921, the site has been producing homegrown sugar from local sugar beet for 100 years.
In that time, it's processed almost 100 million tonnes of sugar beet, to produce around 15 million tonnes of sugar. The site was modernised in 1954 and had a full expansion over the late 1970s and 1980s, with a further juice tank added in 2016, resulting in the footprint we recognise on the Newark skyline today.
Over the years, the site has been home to around 4,000 workers – including many families who have seen several generations pass through the factory gates.
Today, Newark factory receives around 1.2m tonnes of sugar beet annually during the campaign (harvest), from around 700 local farmers, which produces over 230,000 tonnes of sugar.
As part of the centenary celebrations, local MP the Rt Hon Robert Jenrick visited the site on Friday 5th November to meet the team and congratulate them on their achievements, as well as see some of the factory's recent updates.
During the visit, Robert met with first-year apprentices Pepe and Cameron to hear about their experiences of British Sugar's apprenticeship scheme so far, as well as their plans for their careers with the business. Newark's new Site General Manager, Sam Sanders-Hewett, also showcased the factory's latest investments, including recent upgrades to the heating system, which began earlier this year and will reduce the factory's fuel consumption and carbon emissions, and new systems being installed in the factory control room.
He also viewed the factory's newly installed history wall, which commemorates the site's significant events and achievements since 1921 – covering everything from press clippings about historic campaigns and charity fundraisers, to more recent events such as the visit of then-Prime Minister David Cameron in 2014. As well as demonstrating British Sugar's different branding over the years, the wall features many of the colleagues working on the site during its centenary year.
Robert commented, "It was fantastic to visit British Sugar's factory in Newark. This is a business of great importance to our local economy, and I was delighted to be able to personally congratulate the team on the site's 100th anniversary.
"I was particularly interested to hear about the many local families who have seen several generations work across different areas of the site over the years, and to see their stories featured on the factory's new history wall. It was also useful to learn about British Sugar's plans for further investment in the future – including through their impressive apprenticeship scheme."
Site General Manager at Newark, Sam Sanders-Hewett said, "We are immensely proud to reach this important milestone for our factory and it was a pleasure to host our local MP as part of the centenary celebrations at Newark.
"As a business, we continue to invest in the site and our people, to make sure we are fit to carry on producing homegrown sugar for the next 100 years!"
Robert Jenrick MP meeting with British Sugar apprentices based at Newark, Pepe Anthony and Cameron Wrench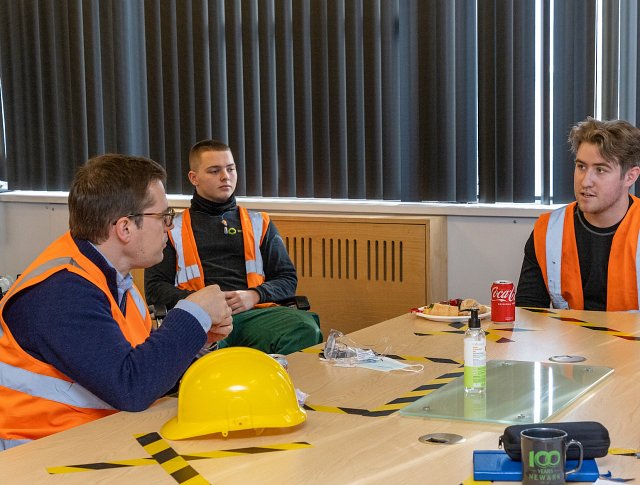 Robert Jenrick MP visiting Newark factory's new history wall, commemorating the site's centenary