Sugar Industry Programme celebrates 10th anniversary in Parliament
30 January 2020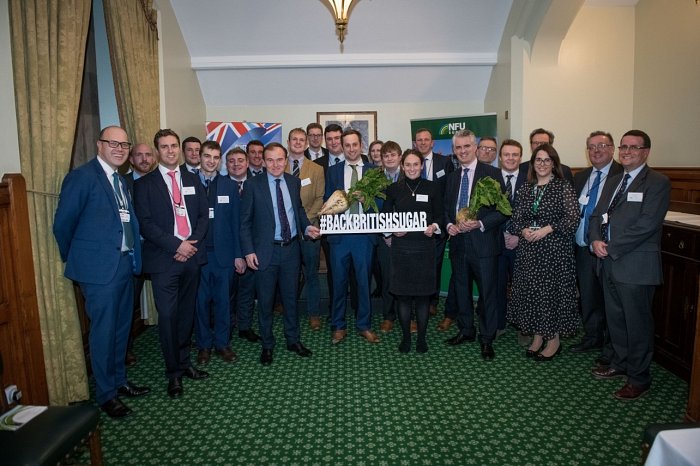 Celebrating its 10th anniversary this year, the Sugar Industry Programme (SIP), which is jointly sponsored by British Sugar and NFU Sugar, once again took its message on the importance of home-grown sugar to Parliament.
On 13th January the SIP participants, who include sugar beet farmers and professionals from British Sugar and Germains Seed Technology, joined their own constituency MPs, as well as other MPs linked to the sugar and agriculture sector, to tell them more about their work in the industry and discuss the key policy issues affecting us.
The reception is an opportunity to bring to life the wider value that home-grown sugar brings to the economy and environment, and topics discussed with the 12 MPs who attended included innovation on farm, plant protection products and trade after Brexit.
This year's guest speaker was Agriculture Minister George Eustice MP, who shared his thoughts on the Government's plans for the farming sector and acknowledged the value of the beet sugar industry in the agri-food sector. He also discussed the challenges the industry faces, especially around plant health.
Paul Kenward, Managing Director of British Sugar commented: "It is always a pleasure to meet with growers and professionals who are the future of our industry, so that we can raise awareness of our sector. At this crucial time for British agriculture, we want to share the message about the importance of the British beet sugar industry, and the SIP reception provides an ideal opportunity to do so directly with policy makers."
---
Notes to editors:
In attendance: Peter Aldous MP, Victoria Atkins MP, James Cartlidge MP, Jo Churchill MP, George Eustice MP, Bernard Jenkin MP, Fay Jones MP, Jerome Mayhew MP, Mark Pawsey MP, Rt Hon Liz Truss MP, Daniel Zeichner MP.
In 2010/11, NFU Sugar, in conjunction with British Sugar, launched the Sugar Industry Programme. This initiative was designed to engage younger growers through a training and development programme.
Now in its tenth year, the 2020 programme will see a new group of growers and industry professionals learn about the sugar beet sector in its entirety, including how the factory operates, seed production and research, industry research and how the NFU influences, adopts and communicates policy to growers.