2020 Sugar Beet Contract Offer Announced
18 September 2019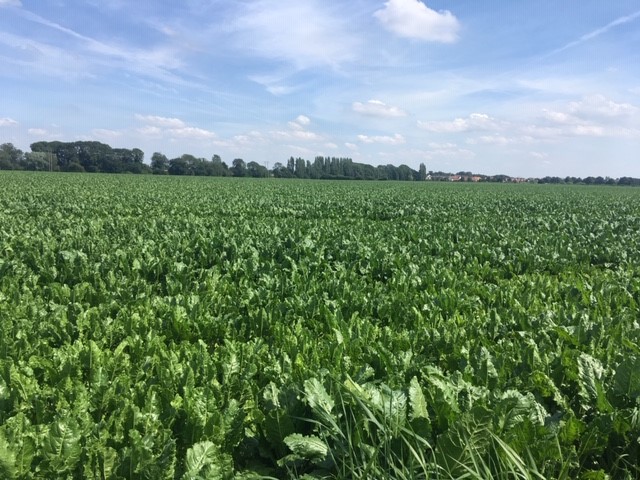 NFU Sugar and British Sugar have today announced both one-year and three-year sugar beet contract terms for the 2020/21 crop and beyond.
A one-year contract will be offered for 2020 at a contract price of £19.60/t, with no crown tare deduction1 and based on the current sugar content payment scale. This is equivalent to a price paid of £20.99/t on a crowned basis2.
A three-year contract will be offered for 2020-22 at a price of £20.45/t, with no crown tare deduction. This is equivalent to a price paid on a crowned basis of £21.90/t in year one and an equivalent £21.18/t in years two and three.
Both contracts will offer a bonus price for growers, which triggers if the EU-reference price for white sugar reaches a certain price. For the one-year contract, if the reference price reaches €375 per tonne, growers will receive a 15% share of the price above that point. For the three-year contract, if the price reaches €400 per tonne, growers will receive a 25% share of the price above that point.
A maximum of 65% of the total, national contracted volume will be available on three-year deals in any combination, on a first-come-first-served basis.
NFU Sugar board chairman Michael Sly said: "Considering the difficulties and uncertainty facing growers now and into the future, it is important that a price has been agreed that recognises the risks and costs now associated with growing sugar beet.
"With these new contracts, growers will now receive a greater benefit from any uplift in sugar prices than in current deals and our agreement ensures that these bonuses will not be compromised by Brexit.
"We are committed to improving transparency in the supply chain and ensuring growers are paid fairly and the removal of the long standing 0.02% price reduction in measured sugar content demonstrates that.
"We are disappointed that there is a reduction in the mileage cap in the Newark factory area but this is unfortunately a reality of the new market. We hope the gradual cap reduction will give affected growers the extra time necessary to realign their businesses."
British Sugar Agriculture Director Colm McKay said: "We're pleased to have reached this agreement with NFU Sugar and believe it offers growers both certainty and choice. Many growers were asking us for a new three-year contract, and together with NFU Sugar, we have delivered that. Both the one-year and the three-year contracts benefit from market bonus triggers, allowing growers to share the benefits when the sugar market performs well."
-ends-
---
Notes to editors:
Crown tare reduction – a 6.61% tare taken off every tonne of sugar beet delivered to reflect the historical crowned beet payment basis. In 2019 and 2020, beet will be paid and tonnes measured with the 6.61% still taken off the price.
Crowned beet payment basis – beet tonnes measured with the top of the root removed. Historically, this was measured by manual topping of the beet. More recently, this has been measured by the fixed 6.61% crown tare reduction to reflect this historical basis.
All contracts will be available to all growers. Any grower on the existing 2018-20 three-year deal can transfer to the 2020-22 three-year deal. This can be for either the full term or for the remaining two years from 2021-22 after completing the third year of the existing three-year deal.
The prices in the three-year contract reflect the change to the sugar scale and no crown deduction in 2021 that was agreed last year. These changes mean that in years two and three growers will be paid, on average, for approximately an additional 3% adjusted tonnes. However, the sugar scale change will affect all growers differently, as growers with higher sugar contents will gain fewer additional tonnes while growers with lower sugar contents will gain more.
Also agreed in this year's contract:

Market bonuses will be paid in two instalments to improve grower cashflow. The first will be paid as soon as beet volumes are finalised post-campaign.
The 0.02% reduction in measures sugar content applied in the tarehouse (the 'saw blade' adjustment') will be removed from the 2021 crop onwards.
The paid mileage cap at Newark will reduce to 55 miles in 2021 and 50 miles in 2022. The cap will remain at 60 miles for all other factories. If contract volume is available at Newark, growers contracted to Wissington above 60 miles but closer than 50 miles to Newark will have first refusal on the option to transfer their contract to Newark ahead of this tonnage being offered elsewhere'
In the event British Sugar no longer feeds prices into the EU average sugar price, an agreed alternative market bonus mechanism will apply from the month this takes effect. The agreed mechanism will ensure growers share any Brexit-related increase in UK sugar prices.
Contract Tonnage Entitlement (CTE) leasing and transfers will only be possible where this does not lead to an increase in mileage. Growers will be able to appeal any rejection of the lease/transfer if they can show that the condition will be met in the coming year.
Follow us on Twitter @NFUpress - Like us on Facebook
For more NFU News, visit the website
Contact: Media Manager – Sam Ette
Telephone: 024 7685 8686 Out of Hours: 07814 667 603 HQ ISDN: 02476 416289
The NFU is the voice of British farming and provides professional representation and services to its farmer and grower members. NFU Sugar is the single entity that represents all sugar beet growers in the UK and negotiates on their collective behalf with the single processor - British Sugar Plc.
British Sugar Contact: Ruth Day
Tel: 07864 800406
British Sugar is the sole processor of the UK's beet sugar crop, working in partnership with over 3,000 growers and our customers to deliver a world-class product that is made to the highest standards every day.
Follow us on Twitter @BritishSugar or visit www.britishsugar.com
`