Sugar Industry Programme 2019/20 application process now open
2 September 2019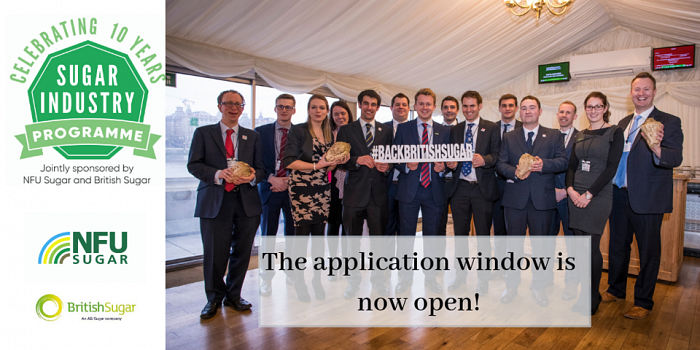 WANT TO LEARN MORE ABOUT THE UK SUGAR INDUSTRY?
We are delighted to launch the 10th Anniversary of the Sugar Industry
The Sugar Industry Programme is jointly funded by NFU Sugar and British Sugar and provides a fantastic opportunity to any grower who wishes to learn more about the UK Sugar industry and develop their professional skills.
The programme provides the participants with a 360-degree view of the industry, making it a fantastic opportunity for growers working or returning to a beet growing businesses, alongside industry professionals that have a sugar beet growing client base.
From seed breeding to parliamentary lobbying within Westminster, the programme highlights all parts of the supply chain from production to regulation. Participants will also gain the opportunity to meet with Members of Parliament, visit a farm to discuss best practice, gain insight from sugar traders and market analysts, all this alongside visits to the Wissington Factory, BBRO, Germains Seed Technology and NFU Conference. There's also the opportunity to visit SESVANDERHAVEs research facilities in Belgium.
Alongside the scheduled visits, participants will get key personal development opportunities such as:
media training
presentation training.
THE SCHEDULE FOR 2019/2020 IS:
Event

Location

Date

Media training and farm visit

(overnight stay)

Newmarket and Ely

27th and 28th November

British Sugar Wissington Factory

Wissington, Norfolk

Tuesday 3rd December

British Beet Research Organisation (BBRO)

Norwich, Norfolk

Wednesday 11th December

Westminster visit, including a visit to the House of Parliament

(overnight stay)

Westminster, London

Monday & Tuesday 13th/14th January

SesVanderhave Research Facilities

(overnight stay)

Tienen, Belgium

Tuesday 28th January & Wednesday 29th January

Germains Seed Technology

Kings Lynn, Norfolk

Thursday 6th February

NFU Conference

(overnight stay)

Birmingham

Tuesday 25th and Wednesday 26th February

Presentation training and farewell meal

(overnight stay)

Stoneleigh, Warwickshire

Tuesday 3rd March
HOW TO APPLY:
The application window will open on Monday 2nd September 2019 and close on Monday 7th October. To apply for the programme, please submit a cover letter and your CV to bethan.williams@nfu.org.uk . If you have questions regarding the application process and programme, please email Bethan Williams directly however all details can be found on the NFU Sugar website.
Please note that the schedule is subject to change and if you are accepted on to the programme you are expected to attend every event. The programme is fully funded by NFU Sugar and British Sugar.