British Beet Sugar Industry Celebrates Record Yields
5 April 2018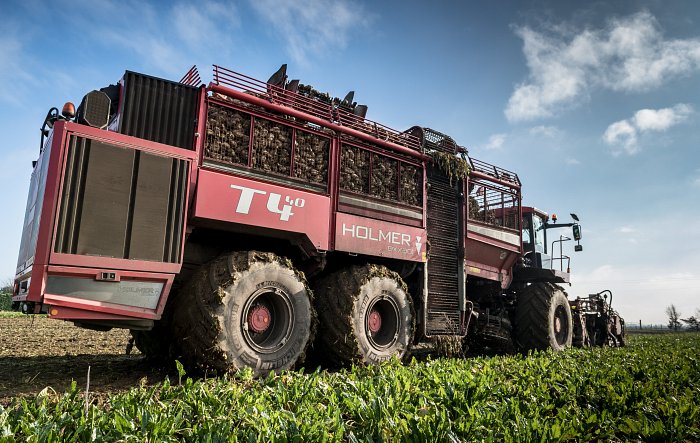 Harvester 2017-2018 Campaign
The 2017/18 sugar beet campaign came to a close just before Easter and the British beet sugar industry is celebrating record yields from the crop.
8.9m tonnes of sugar beet were processed through British Sugar's four factories with the final average yield an impressive 83.4 tonnes per hectare of beet. This compares to a previous record of 79.8.
The increases have been driven through the work of the British Beet Research Organisation (BBRO) – jointly funded by British Sugar and sugar beet growers – which has played a key role in driving a focused, partnership approach to productivity improvement.
The result has been an increase in yields of 25% in the last ten years and this year many growers have seen yields of over 100 tonnes per hectare.
Paul Kenward, Managing Director of British Sugar said:
"This has been a long and challenging campaign for our growers, our supply chain and our four factories. I am hugely proud of the record yields we've seen from our homegrown sugar beet and we continue to be one of the most efficient sugar industries in the world. However, we simply couldn't do it without our 3,500 growers and the 9,500 people who work across our supply chain.
"We are processing the same amount of sugar beet today with four factories as we were 20 years ago with ten, as a result of investing in our factories to make them even more efficient. We'll now focus on getting ready for the next campaign and making further improvements."
Enquiries:
Ruth Day
ruth.day@britishsugar.com
07864 800406
---
Notes to editors:
The total sugar produced by British Sugar for the 2017/18 campaign was approximately 1.38 million tonnes from a total growing area of over 105,000 hectares. Yield is measured as tonnes of beet per hectare and is influenced by a number of factors including weather, soil growing and harvesting techniques.
British Sugar is the sole processor of the UK's sugar beet crop, and supplies around 50 per cent of the UK's demand for sugar. The company operates four advanced manufacturing plants across East Anglia and the East Midlands.
In addition to producing sugar, each year, British Sugar's factories produces a wide range of co-products including animal feed, electricity and bioethanol.
British Sugar is part of AB Sugar - a business segment of Associated British Foods. Bagged sugar from homegrown sugar beet is sold to consumers in the UK under the Silver Spoon brand and under many supermarket own-label brands.
British Sugar is regarded by independent consultants LMC International as one of the most competitive sugar manufacturers in the world.
The British beet sugar industry partners with 7,000 businesses including 3,500 growers in mainly rural areas of the country, and supports 9,500 jobs throughout the economy.
For more information, please visit: www.britishsugar.com or @BritishSugar