Home-grown sugar celebrated in Parliament
24 January 2018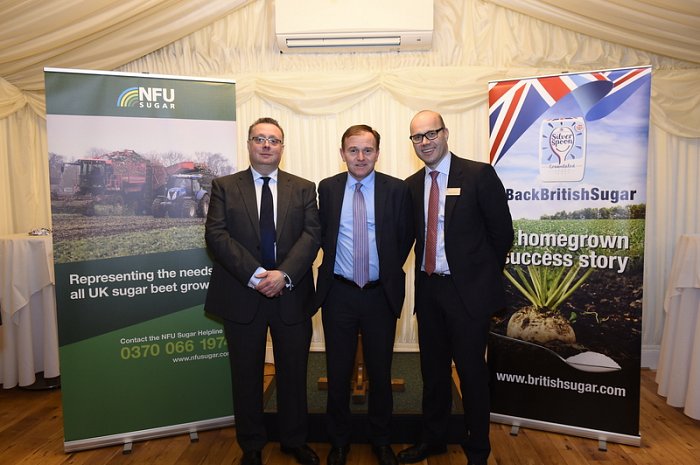 L-R – Michael Sly, Chairman, NFU Sugar; George Eustice, Farming Minister; Paul Kenward, Managing Director, British Sugar
'Back British Sugar' – this was the message delivered by the Sugar Industry Programme (SIP) to MPs as the next generation of the sugar sector gathered in Westminster to demonstrate the importance of home-grown sugar.
The home-grown sugar sector produces around half of the sugar used in the UK across four factories and supports around 9,500 jobs in the rural economy.
The SIP participants, who range from growers to technical professionals, stressed how the industry is among the most efficient in farming and how it is crucial a new domestic agricultural policy after Brexit allows this to continue.
George Eustice, Farming Minister commented:
"I was pleased to meet the participants in the Sugar Industry programme through which British Sugar and NFU Sugar are investing in young talent. The British sugar beet industry has shown significant improvement in productivity in the last decade with beet sugar yields increasing by more than 25%.
"Ongoing investment and technological advances in this home-grown industry is making an important contribution to sustainable agriculture in the UK."
Paul Kenward, Managing Director of British Sugar commented: "It was great to meet with many of the young people who are the future of the sugar beet sector in Britain and to talk to MPs about our partnership with NFU Sugar and our 3,500 sugar beet growers across East Anglia and the East Midlands. It's an industry we're really proud of, and we're working hard to raise awareness of this British success story. Our industry has a bright future, and with a level playing field after Brexit, we can continue to compete with anyone."
NFU Sugar board chairman Michael Sly said "It is critical for any industry that they engage the next generation and it is clear from the reception that the sugar sector is in very capable hands for generations to come. The sugar sector is a real success story of British agriculture and I have high hopes that our success will continue."
"However, in a time of uncertainty it is crucial that a new domestic policy after Brexit provides farm businesses with the tools to be profitable, productive and progressive. There is a great collaboration between NFU Sugar and British Sugar, and we continue to work closely with Government. I am confident we can continue to work together to ensure a bright future for the industry."
Speaking after the event, Guy Wakeham from Cambridgeshire said: "This reception is a wonderful opportunity to explain to MPs the benefits of supply chain collaboration. The SIP demonstrates how working together can improve productivity and I am sure we will see the relationship between growers, British Sugar and hauliers continue to advance as the industry continues to process record yields now that quotas have ended."
This year's participants, who include sugar beet growers and British Sugar young professionals, were joined by 15 MPs.
Matt Warman, MP for Boston and Skegness, said: "I was delighted to host the 'Home-grown Sugar' event in Parliament. In my own constituency I am proud to represent 104 sugar beet growers and it was a pleasure to meet so many young people from across East Anglia and the East Midlands who are the future of this important industry."
---
Notes to editors:
In attendance: George Eustice MP, Matt Warman MP, Kevin Hollinrake MP, Vicky Ford MP, Norman Lamb MP, Ed Argar MP, Peter Aldous MP, Neil Parish MP, Nic Dakin MP, Sheryll Murray MP, Dr Caroline Johnson MP, Julian Sturdy MP, Steve McCabe MP, Victoria Atkins MP and David Amess MP.
In 2010/11, NFU Sugar, in conjunction with British Sugar, launched the Sugar Industry Programme. This initiative was designed to engage younger growers through a training and development programme.
Now in its eighth year, the 2018 programme will see a new group of young growers and industry professionals learn about the sugar beet sector in its entirety, including how the factory operates, seed production and research, industry research and how the NFU influences, adopts and communicates policy to growers.
-Ends-
Contacts:
For further information please contact:
Ruth Day Sam Ette
ruth.day@britishsugar.com sam.ette@nfu.org.uk
07864 800406 02476 858686