British Sugar TOPSOIL announces first bursary recipient
7 July 2017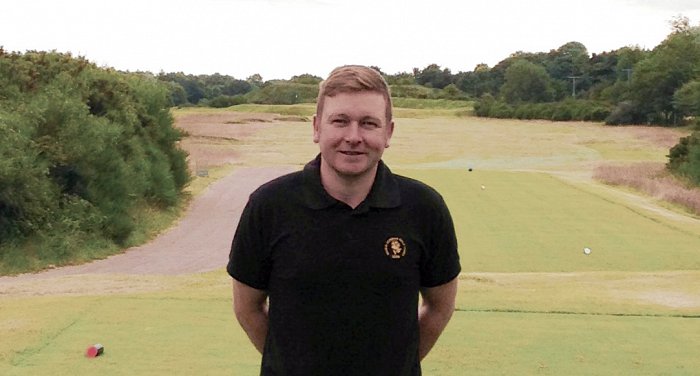 Bursary recipient Richard Johnstone, Golf Course Manager, Nairn Dunbar Golf Club.
Richard Johnstone, a 34-year old golf course manager from Nairn, situated in the north of Scotland, is the first recipient of the British Sugar TOPSOIL Training Bursary. The bursary was launched in January to celebrate TOPSOIL's twenty years in business.
The bursary was created to support anyone in the greenkeeping, groundsmanship, landscape contracting or garden design sectors who could demonstrate they would benefit from financial support to help develop their skills and knowledge.
Richard has worked at Nairn Dunbar Golf Links since leaving school at 17, working his way up to the position of golf course manager. He will use the £500 bursary to pay for the first year of a three year HND in Golf Course Management starting in August. No stranger to study, Richard has acquired a considerable range of skills and industry qualifications since joining the club in the year 2000 and is now keen to develop his managerial skills:
"I completed an HNC in Golf Course Management in 2012 and although my club has always been very supportive, it currently has more pressing demands on its resources and cannot afford to make further education a priority. It has taken me 17 years to work my way up the ladder and I am determined to improve and develop as a course manager. The HND includes units specific to a managerial role so being awarded this bursary by British Sugar TOPSOIL is great and will help me to fulfil my ambitions as a professional greenkeeper and golf course manager."
British Sugar TOPSOIL is a keen supporter of the green infrastructure industry across the UK, as well as hosting training days and visits to its topsoil and top dressing manufacturing facilities in East Anglia for industry professionals. Richard's professional development will be closely followed over the coming months by National TOPSOIL Manager Andy Spetch, who will invite him to relevant events and exhibitions as a guest of British Sugar TOPSOIL.
Further information:

Andy Spetch
01733 422084 / 07850 3369787
Andy.spetch@britishsugar.com
---
Notes to editors:
TOPSOIL
British Sugar TOPSOIL is the largest supplier of quality topsoil in the UK. Our products, Landscape20, HortLoam and Sports & Turf, are successfully used by the construction, landscaping and amenity industries. For further information on British Sugar TOPSOIL go to www.bstopsoil.co.uk
British Sugar is the leading supplier to the British and Irish food and beverage markets. We operate four factories across East Anglia and the East Midlands employing around 1,400 permanent and contract staff directly at our facilities and support up to 9,500 UK jobs in the wider economy.
Around 3,500 growers supply our factories with 8 million tonnes of sugar beet each year, which we process into over 1.4 million tonnes of sugar.
Sugar production is at the heart of our operations but using our highly integrated approach to manufacturing, we aim to transform all of our raw materials into sustainable products. We produce 500,000 tonnes of animal feed from sugar beet pulp. We recycle stones for building, lime for soil conditioning and soil for landscaping. Using our Combined Heat & Power plants, we export enough electricity for over 120,000 homes; we were also the first company to manufacture Bioethanol in the UK.
Over the past five years, we have invested over £250 million to improve efficiency and competitiveness; in addition, we invest over £2m every year in research, development and education.
For further information visit www.britishsugar.com or find us on Twitter @BritishSugar