Poll reveals British shoppers have little idea where sugar comes from
5 June 2017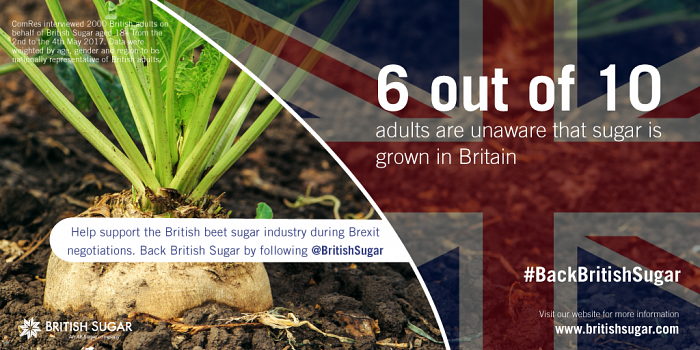 Only a third of adults are aware that sugar is grown in the UK
A majority of shoppers say they're willing to pay extra for British-grown products
Six out of ten adults are unaware that sugar is grown in Britain according to research revealing that sugar beet is one of British farming's best-kept secrets.
When asked which countries sugar is grown in just 36% of British adults selected the UK, out of a list of options. The low level of awareness is in spite of the fact that a majority of sugar consumed in the UK is home-grown.
| | |
| --- | --- |
| In which of the following countries do you think sugar is grown? | |
| Brazil | 37% |
| United Kingdom | 36% |
| United States | 28% |
| South Africa | 25% |
| India | 21% |
| Mexico | 19% |
| China | 14% |
| Sudan | 6% |
| Don't know | 22% |
The poll of 2,000 British adults, which was conducted by ComRes on behalf of British Sugar, found that a fifth of British adults (22%) were unable to produce an answer of any sort on countries of origin for sugar.
The low level of awareness is revealed as British Sugar launches a campaign urging consumers to "Back British Sugar" in advance of the removal of European sugar quotas in October, and of Britain's upcoming exit from the European Union. Both changes bring potential opportunities for British Sugar and for the wider UK beet sugar industry.
Paul Kenward, Managing Director of British Sugar, said: "British farmers have been successfully growing sugar beet for more than a century, and yields in British beet fields have improved by more that 25% in the last ten years. This, combined with the productivity gains that our £250 million investment in four modern factories over the last five years has brought, leaves the UK's beet sugar industry ranked the lowest cost beet sugar industry in the world. All of which may be surprising to many British consumers who have little idea sugar beet is grown on their doorstep".
He added, "We are delighted to see strong sentiment in this poll among shoppers in favour of supporting domestic produce. We look forward to working together with our growers and customers to ensure that the British beet sugar industry goes from strength to strength."
Other key findings include:
Shoppers rate "supporting my local community" (22%) and "supporting British jobs" (17%) as higher priorities in their grocery shopping than value for money (14%)
A majority of shoppers, 55%, would be willing to pay a bit more for British-grown products
When asked specifically about buying sugar, three in five (60%) consumers say that they would be more likely to buy British sugar over sugar from another source
For more information on the Back British Sugar campaign please see our website:
https://www.britishsugar.com and Twitter account @BritishSugar
---
Notes to editors:
About the poll
ComRes interviewed 2,000 British adults aged 18+ between the 2nd and the 4th May 2017. Data were weighted by age, gender and region to be nationally representative of British adults. ComRes is a member of the British Polling Council and abides by its rules.
About British Sugar
British Sugar is the sole processor of the UK's sugar beet crop, and supplies around 50 per cent of the UK's demand for sugar. the company operates four advances manufacturing plants across East Anglia and the East Midlands, sourcing beet from 3,500 farmers.
The home-grown sugar supply chain supports around 9,500 jobs in the wider economy; making it one of the country's leading rural employers. Each year, British Sugar produces 1.4 million tonnes of sugar plus a wide range of co-products including animal feed, electricity and bioethanol.
British Sugar's plants are among the most efficient in the world, following investment of more then £250 million over the last five years to improve efficiency and competitiveness.
British Sugar is a subsidiary of Associated British Foods. The company's output is sold to consumers in the UK under the Silver Spoon brand and under many supermarkets own-label brands.
For more information, please visit: www.britishsugar.com.