Brexiteers vote to 'buy british' in their weekly shop
5 June 2017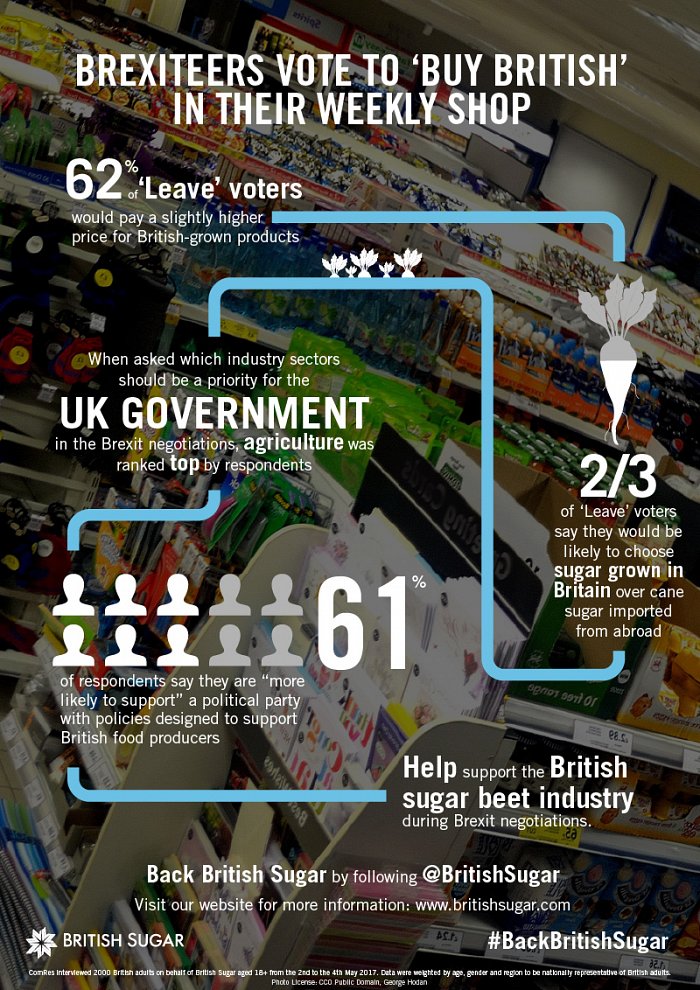 Poll shows Leave voters are willing to pay extra for home-grown products
Six out of ten adults are more likely to support a party that backs British food producers
Brexit-supporting shoppers are more likely to pay extra for British-grown products than Remain voters according to research by ComRes.
The resarch, conducted on behalf of British Sugar, shows that the political divide sweeping the country has affected grocery purchasing, with a disparity in shopping habits between Leave and Remain voters.
According to the survey 'Leave' voters tend to be more inclined than "Remain" voters to pay a premium for British produce. Asked whether they would pay "a bit more" for home-grown products, 62% of Leave voters said they would, compared to a figure of just 52% amoung those who voted to stay within the European Union.
Asked specificaly about their habits in purchasing sugar, two thirds (66%) of 'Leave' voters indicated that they would be likely to select home-grown British sugar over imported cane sugar, compared to 58% of Remainers.
Paul Kenward, Managing Director of British Sugar, said: "This poll shows significant strength of feeling towards patriotic purchasing in the wake of the Brexit vote. Consumers are sending a very clear message that they want to see the interests of Britan's food industry taken into account in trade policy once we leave the European Union."
"Our UK beet sugar industry is among the most cost-efficient in the world and we're delighted to see that so many shoppers are fully in favour of supporting domestic produce." Other Key findings include:
Six out of ten British adults (61%) say they are more likely to back a political party with policies designed to support British food producers
Shoppers rate "supporting my local community" (22%) and "supporting British jobs" (17%) as higher priorities in their grocery shopping than value for money (14%)
When asked which industry sectors ought to be foremost in Government minister's mind when negotiating a Brexit deal, agriculture was ranked top 17%, followed by financial services and manufacturing, both on 15%, then creative industries at 14% and healthcare at 13%.
For more information on the Back British Sugar campaign please see our website: https://www.britishsugar.com and Twitter account @British Sugar
---
Notes to editors:
About the poll
ComRes interviewed 2,000 British adults aged 18+ between the 2nd and the 4th May 2017. Data were weighted by age, gender and region to be nationally representative of British adults. ComRes is a member of the British Polling Council and abides by its rules.
About British Sugar
British Sugar is the sole processor of the UK's sugar beet crop, and supplies around 50 per cent of the UK's demand for sugar. the company operates four advances manufacturing plants accross East Anglia and the East Midlands, sourcing beet from 3,500 farmers.
The home-grown sugar supply chain supports around 9,500 jobs in the wider economy; making it one of the country's leading rural employers. Each year, British Sugar produces 1.4 milion tonnes of sugar plus a wide range of co-products including animal feed, electricity and bioethanol.
British Sugar's plants are among the most efficient in the world, following investment of more then £250 milion over the last five years to improve efficiency and competitiveness.
British Sugar is a subsidery of Associated British Foods. The company's output is sold to consumers in the UK under the Silver Spoon brand and under many supermarkets own-label brands.
For more information, please visit: www.britishsugar.com.